Blind Lemon Blues celebrates the legacy of Blind Lemon Jefferson and his profound influence upon the development of American popular music. Jefferson was a blind street musician, who played his guitar at the corner of Elm Street and Central Avenue in Dallas, Texas, until a Paramount Records scout discovered him. Between 1926 and 1929, Jefferson made more than 80 records and became the biggest-selling country blues singer in America.
Blind Lemon Blues builds on the success of a related theatrical production at the Addison WaterTower Theatre, Blind Lemon: Prince of Country Blues, which received the 2001 Leon Rabin Award for Best New Work, Musical or Play.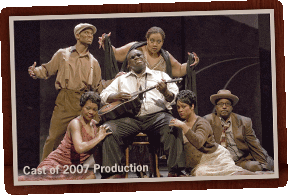 Blind Lemon Blues is set in New York City in 1948 at the last recording session of the legendary Huddie Ledbetter, better known as Lead Belly, and combines elements of traditional blues, gospel, rhythm and blues, soul, doo-wop, and rap to evoke the enduring legacy of Blind Lemon and his contemporaries, Blind Willie Johnson, Lillian Glinn, Hattie Hudson, Bobbie Cadillac, Lillian Miller and Lead Belly himself.
In Blind Lemon Blues Alan Govenar and Akin Babatunde explore the relationships between blues music and the spectrum of the human experience. Blind Lemon's lyrics merge with new arrangements and choreographed movement to propel the drama and reveal the intricacies that define the myth and the man. Blind Lemon Blues stands as a metaphor for our need to face the dilemma of our own mortality, finding what defines and connects us, ultimately revealing our purpose in life.
Blind Lemon Blues was presented in its world premiere at the Forum Meyrin (February 27 & 28, 2004) in Geneva Switzerland, and as the opening of the Festival de L'Imaginaire (March 3-7, 2004) at the Maison des Cultures du Monde in Paris France. Following this production in the newly renovated Margaret and Al Hill Lecture Hall at the Hall of State in Dallas, Texas, February 1-4, 2007, Blind Lemon Blues will be featured as part of the Works & Process series at the Guggenheim Museum, February 11 & 12, 2007, and will be presented in its off-Broadway premiere at the York Theatre in New York City, February 15-25, 2007. The World Music Theatre Festival will tour Blind Lemon Blues to ten cities in The Netherlands and Belgium, March 10-25, 2007.
Additionally, Documentary Arts in association with Amas Musical Theatre in New York City developed the Blind Lemon Blues Education Project in 2004 (read more and download the guide here), supported in part the National Endowment for the Arts and the City of Dallas Office of Cultural Affairs.

For more information, please feel free to contact Alan Govenar.